ESFSERVICES works in close consultation with our customers to ensure that every workplace is tidy, clean and bright. We use a cleaning program/proces as a guideline for this purpose. It is a record of everything that has been agreed in connection with our work and how it is to be performed.
The assessment of quality has everything to do with the manner in which our customers experience our work. In order to assess our quality and to make adjustments if necessary, we use a logbook and visitor's report at every location. The staff of ESFSERVICES and our customers use them to record their findings and relevant particulars, and evaluate them regularly. Feedback is extremely important in order to ensure that we provide the best possible service.

Schoonmaak SIEV
ESFSERVICES is affiliated with SMB Industry Association Cleaning SIEV and is certified for performing daily and periodic cleaning and specialist cleaning.
SIEV aims to protect the interests of their members. For the acquisition of the quality label Netherlands SIEV Certificate, the entire organisation must comply with the ISO 9000 standard, Responsible Market Practice Code, to use the correct RI&E for all cleaning tasks and, of course, the CAO for Cleaning and Window cleaning is followed by the letter!


SVS-Courses
The Stichting Scholing en Vorming Schoonmaakbedrijven en -diensten (SVS)
(= Cleaning Companies' and Services' Educational and Training Foundation) is an educational institution that was set up on 12 December 1977 in Rotterdam by employers' and employees' organisation.
The SVS aims to stimulate, organise and administer courses for employeess in companies that are engaged in cleaning maintenance, in the broadest sense, in a professional way.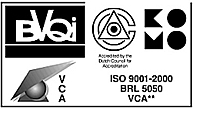 Certification NEN-ISO 9002
ESFSERVICES has a quality system established in writing which complies with ISO standard 9002 and the OSB+ standards. The system had been certified for both standards by Bureau Veritas BVQI.

The Veiligheids Checklist Aannemers, VCA (= Contractors' Safety Checklist) is a list of requirements in the area of healt and safety and the environment, which are of importance for customers and contractors of organisations that are carrying out tasks bearing a heightened risk, such as civil engineering, building and technical services, such as insulation, industrial cleaning, radiation/preservation and erecting scaffolding.